When you apply for your SENTRI pass with Immigration Passport Visa Service you will have to attend a 30 minute SENTRI pass interview at one of the easily accessible SENTRI interview locations in three of the four US border states; Arizona, Texas and California. You can attend your interview at the enrollment center of your choice, but you must make an appointment first. If you use Immigration Passport Visa Service to file your application we will make the interview appointment for you for a date and time convenient to yourself.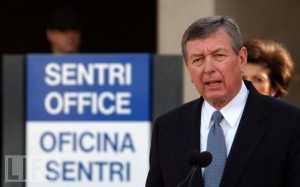 The SENTRI pass was introduced on 1 November 1995 when it was used at the California border crossing at Otay Mesa. Today the SENTRI program has expanded to include dedicated lanes and kiosks in Texas, Arizona and California at El Paso, Brownsville, Hidalgo and Laredo in Texas, Nogales in Arizona and San Ysidro and Calexico in California. The US Mexico border is the most frequently crossed border in the world with approximately 250 million people crossing for one country to the other each year.
There are SENTRI interview centers at a variety of locations listed below.
More questions about SENTRI? Read our FAQs
SENTRI Pass Enrollment Centers in Arizona
Nogales
9 North Grand Avenue
Nogales, AZ 85621
(520) 375-5801
San Luis
Highway 95 and International Border
San Luis, Arizona 85349
(928) 627-8854 ext. 261
SENTRI Pass Enrollment Centers in California
Calexico
1699 East Carr Road
Calexico, CA 92231
(760) 768-2488
Otay Mesa
2500 Paseo Internacional
Otay Mesa, California 92143
(619) 690-7600
SENTRI Pass Enrollment Centers in Texas
Brownsville
3300 South Expressway 77/83
Brownsville, TX 78520
(956) 983-5668
El Paso
797 S. Zaragoza Road, Bldg. A
El Paso, Texas 79907
(915) 872-3472
Hidalgo
6620 S. 33rd Street, Bldg. J, Suite 20
McAllen, TX 78503
(956) 618-1680
Laredo
Lincoln/Juarez Bridge Adm. Bldg. 2
Laredo, TX 78040
(956) 523-7399
Immigration Passport Visa Service does not guarantee approval for any Trusted Traveler program. Inaccurate or incomplete SENTRI pass application forms are automatically denied access to the SENTRI cards program.