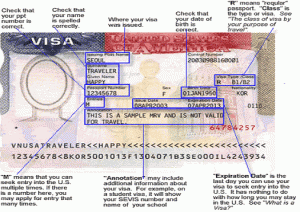 US visa applications for the Student Visa, Work Visa, Marriage Visa, and Visitor Visa present complex issues for potential applicants. IPVS have put US government application forms into free comprehensive, easy to read application packs.
The Department of Homeland Security issues approximately 15 million visas last year to tourists, students, businessmen and skilled workers. Around 3 million of them were refused because applicants did not meet the specified requirements for the type of visa they applied for. The choice is vast and applicants need to ensure the following points:
that they are applying within the correct visa category
that they have completed the application form acceptably and accurately
that they have submitted all of the correct supporting documents to the right authorities
that they have paid the correct fee and undergone biometric tests
US visa application forms are frequently delayed and / or denied because of an oversight on one of the above points.
USA visas are official permits affixed to a travel document or passport by an Entry Clearance Officer based at one of the many overseas American Consulates or Embassies. It allows the holder to legally enter the country. The Department of Homeland Security has strict rules about who it lets in to study or work in the USA. It is vital that all prospective applicants apply for the correct category using the correct application forms. Failure to submit the form correctly and accurately can result in delays and sometimes denial. Likewise failure to submit the correct supporting documents or to lie on your application can lead to a denial and in many cases you will not be allowed to reapply for a period of ten years.
Immigration Passport Visa Service, free, simplified application packs guide users through the complex immigration process.
IPVS also offer fee a based DS-160 filing service and US visa appointments service to help applicants using our service stand the best chance of success.